Sell Your Vehicle
The Best Place to Sell Your Car
Nissan of Rochester in Rochester, MN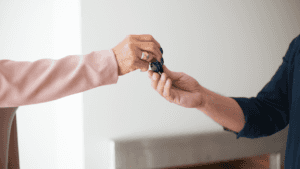 Don't sell your vehicle to a stranger you met online. Sell your vehicle to a local, reputable business and avoid the risk of unverified payments, complicated registration or title issues, and dealing with people who don't know how to buy a vehicle.
Get the Best Offer
Work with professionals
Kelley Blue Book® pricing
Verified Payment from local business
Safe & secure
Get an online price for your vehicle today!
How exactly does the online appraisal tool work?
Kelley Blue Book tracks data for vehicles across the country, so they know the prices that vehicles sell for and what they list for. With the amount of data they have, they can provide a highly accurate value on your vehicle based on it's year, make, model, mileage, trim, packages, condition, damage, and more.
Will I for sure get the offer listed in the tool?
Yes! If all the information you provided is accurate, you'll get the offer from this tool–or maybe even more.
Do you pay in cash?
We will print you a check for your vehicle. This verified business check will be from Nissan of Rochester and will be printed with your name and price and will be signed by staff on-site.
How can I get the most money for my vehicle?
The best way to get the most money for your vehicle is to have the nicest vehicle! If you took good care of a vehicle, we can tell. Service history, vehicle accident reports, and more help us see first-hand how well you've cared for your vehicle.
What if my offer is lower than I expected?
This instant vehicle appraisal tool tries to get the most accurate understanding of your vehicle it can. That being said, it is not perfect. If you think your vehicle is worth much more than the tool says, then let's look it over together and you can show us how nice it is. If it's better than the tool thinks, we might give you more money for it.
Do I have to buy a new vehicle from you to sell you my car?
No, you do not have to buy anything from us if you are looking to get rid of a vehicle.
Will the appraisal on my vehicle change?
The offer on your vehicle is typically valid for 7 days with roughly the same mileage. If you get an appraisal on your car, make a cross-country trip the next week, and come back to us on day seven, we will update the mileage and the price may change (if you're putting thousands more miles on the odometer!)
Do I need two keys to sell my vehicle?
No, you do not need two keys–only one. However, most people expect two keys, so if we sell a vehicle that only has one, we won't charge the customer as much. The same goes for your vehicle.
What if my vehicle has rust?
Many used cars and trucks in Minnesota and Wisconsin have rust on them. We get it. Depending on the age and price range of your vehicle, rust might be a normal expectation. If you are selling a 2001 Pontiac Grand Am, there will likely be some rust on it. If you're selling a 2022 Nissan Armada Platinum with 3,000 miles on it, we would typically expect there to be little to no rust on it. It all depends on the vehicle.